Project Development
---
The project development consists of the sum of all investigations, business decisions, planning and other build-preparing measures, which are necessary or appropriate, in order to cover one or more properties or prepare an other use.
In addition the security of the structural and other use belongs in the economic range.
In the range of housebuilding the project development is often limited to the search for suitable properties and their pre-planning in the context of the valid building law.
---
The project development aims usually at the integration of comprehensive achievements starting from:
• Property acquisition
• Planning
• Financing
• Building of turnkey-ready buildings
• Sale or operate
Project developers can be project companies, owners, building contractors or as advisory suppliers architects, brokers or we.
According to a definition after its task the project development is the combination of the factors location, capital and project idea, whereby real estate objects with the following characteristics are to be created:

• economic competitively
• job-creating and -securing
• overallally economic, social and environmentally compatible

A definition over their impact shows it as sum of all technical, legal and economic measures, which aim at that a project is realizable within a given costing, quality and timeframe.
---
Depending on which of these factors are present with the project start, different approaches result:
| | | |
| --- | --- | --- |
| Idea looks for capital and location | Location looks for idea and capital | Capital looks for idea and location |
| This variant e.g. becomes important with new building of shopping centres, building markets etc. Here is usually a matured project idea, possibly in the form of Franchising, and investors as well as suitable locations for these projects are looked for. | Here for an existing property, e.g. again-creative trade areas or properties, which will be left from industrial enterprises, a new use as well as a real estate financing is looked for. | This is e.g. the classical case when real estate funds or insurances, whiwant to have extensive means and to invest these means in suitable objects. |
---
We can offer to you our services and our support in the treatment of the following project development phases (in parentheses = optionally):
(Project initiation)








Project scheme


Market analysis
Use analysis
Competition analysis
Risk analysis
Location analysis
Cost analysis


Project management




(Project marketing)
---
Important is however the early integration of the project developer and/or project manager, because an effective impact of the costs exists mainly in the starting phase of the project, as the following diagram shows: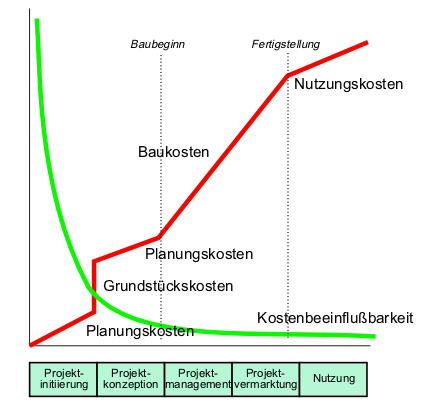 ---